Product Description
When it comes to shaving ice Mexicans have perfected the art and if you go to Mexico or even in California's Mexican neighborhoods you will always see someone selling shaved ice treats with fruit flavors like pineapple, mango etc....and they all use this device. Ice Shavers are the ideal Kitchen Tools to use in order to make perfect slurpees or snow cones.
It has an adjustable blade system which is very easy to use and is basically a very light stainless steel hand manual carpenter planer. It is used just like shaving wood with a plane. You will absolutely love this because it fits great in the hand and is light weight for long term use. Make sure that the blade is only out a little bit so that it will make it easy to shave and adjust from there on.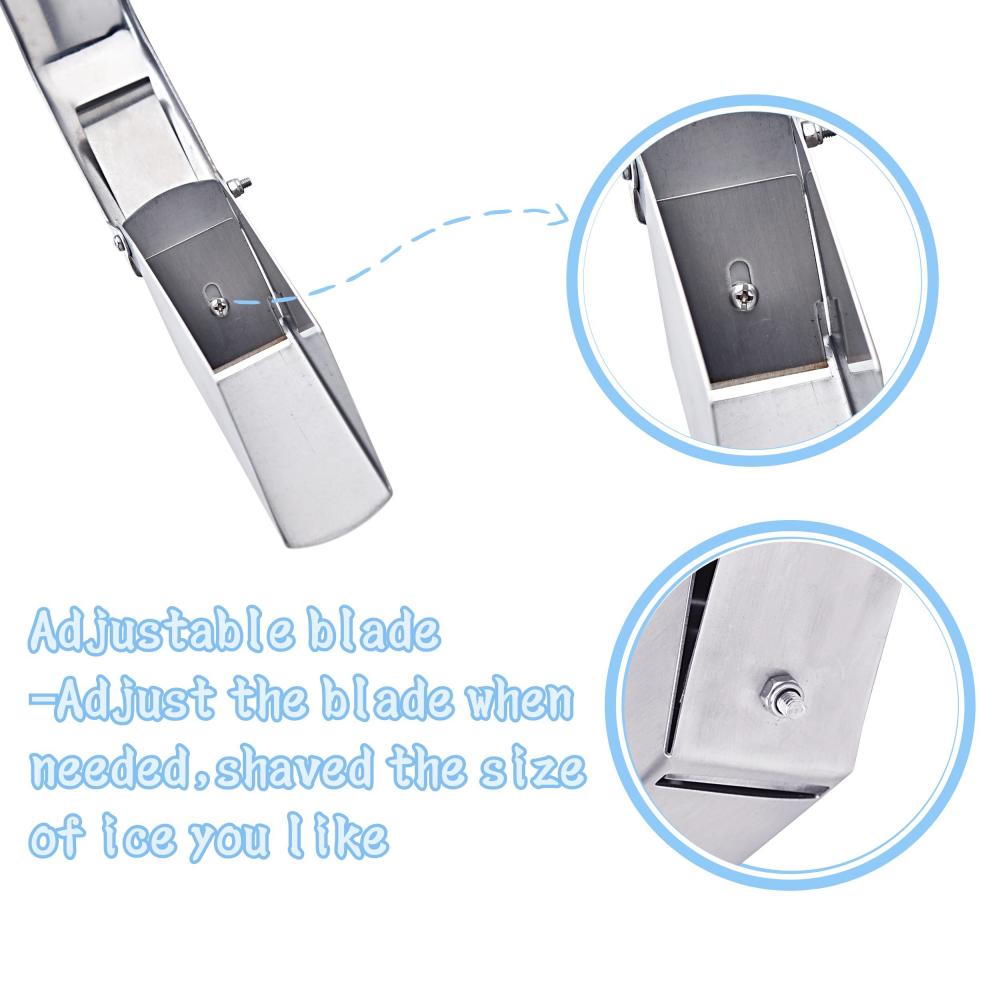 Shave It Manually With An Ice Shaver
With the rise of affordable electric ice shaving machines, manual ice shavers are not commonly seen in peoples kitchens as much as they used to be. But that doesn't mean that these tool aren't a great, travel-friendly option when it comes to shaving ice from scratch.
What You'll Need:
A manual ice shaver

A large ice mold

A clean cloth

A hand glove (optional)

Water
Steps:
First, you need to freeze water, but this time, you have to use a large container so you can easily shave more ice.

Once the ice block is ready, let it thaw for around 6 to 10 minutes.

Secure the ice in a tight container or place it under a clean cloth to prevent it from sliding. Again, use a hand glove when handling ice.

Position the ice shaver at the top of the ice block while holding the ice in place.

Push the shaver away from you scraping it on the ice. Repeat this step until the ice shaver's compartment is full. If you need more shaved ice, empty the compartment and continue running through the ice in a similar motion.

Finally, mold the ice on a bowl and add the ingredients of your choice.
ARC USA provide all kinds of kitchen products of various sizes and fashions, including Propane Gas Stove And Burner Accessories, Stock Pot And Boiler, Tortilla Press, Tea Kettle, other Kitchen Tools, etc. We focuse on kitchen supplies, give you the best product experience, the best product service.
ARC Advanced Royal Champion
ARC is dedicated to providing premium tableware, outdoor camping accessories, stainless steel cutlery, and other kitchen tools. Whether it`s a special occasion or a casual, every day meal, you`re sure to find the perfect products for the occasion. From crisp, white dinnerware to eye-catching patterns, ARC offers a variety of styles to complement your lifestyle.
Company Name: ARC Advanced Royal Champion
Product/Service: Outdoor gas burner , Comal and cazo , Melamine dinnerware , Tortilla press , Kitchen tools , Tea Kettle
Year Established: 1997
Contact Person: Mr. Sales Manager
Tel: 1-972-406-0885